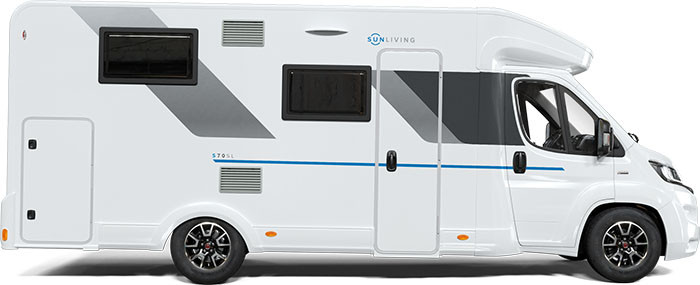 S Series.
A NEW FORM OF RECREATIONAL VEHICLE.
Lengths from 6705-7175 mm | Seats from 4-6 / Beds from 2+1-6Available Layouts: DF - DL - DC - SL
Available in white, silver or black.
LOW PROFILE WITH THE DROP DOWN BED* AS STANDARD.
* not available on S 65SL
Simply great times
THE ERŽEN FAMILY
The S Series is a simply great choice, for outdoor life lovers. Like for the Eržen family, the S Series provides a perfect basecamp for surfing activities, with space and smart solutions, for an easy everyday experience
PRACTICALITY
SAFE SEATS FOR EVERYONE
Most of our models have the same number of travelling seats as beds, so no one is left behind.
THE SIMPLEST GARAGE BOX MANAGEMENT
Large garages with flat walls and large, easy access doors on both sides of the vehicle as standard, for simple use.
EASY INDOOR GARAGE ACCESS
E-BIKE READY GARAGE
Our garages are equipped as standard with Power-Tower to charge your bikes, e-scooters and other equipment.
HIDE-AWAY EXTRA SEAT
Our exclusive 'hide-away' seat takes no space but provides an extra seat when you need it most. (* only on S 65SL model)
SPACE FOR SHOES AT THE ENTRANCE
Our shoe compartment by the door means never having to wear your shoes inside again.
OPTIONAL WINTER FRIENDLY INSULATED AND HEATED WASTE WATER TANK
Thanks to our heated waste water tank you can use your Sun Living all year round.
COMFORT
ABOVE AVERAGE HEAD SPACE
Our motorhomes offer more headroom and the feeling of space, with 210cm interior height.
COMFORTABLE DROP-DOWN BED
Our exceptionally wide bed takes almost no space during the day and provides great sleeping comfort at night.
BEDS FOR TALL PEOPLE
Our beds are great for everyone, especially the tallest people, with up to 210cm in length.
SPACIOUS FRIDGE
Our large fridge is standard on most models which means more autonomy and more food storage.
ERGO BATHROOM
Ergo bathroom with sophisticated ergonomics and spaciousness is almost undetected when not in use.
USER FRIENDLY FLAT FLOOR
Our perfectly flat floor without steps offers more comfort and is more convenient for living and cleaning.
STYLE
LAYOUTS